Hoffmann, Percival named Distinguished University Professors
Read the full article here.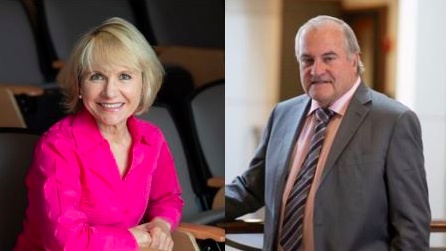 University of Maryland, Baltimore (UMB), president Bruce Jarrell announced that Diane Hoffmann, Jacob A. France Professor of Health Care Law and director, Law and Health Care Program; and Robert Percival, Robert F. Stanton Professor of Law and director, Environmental Law Program, have been awarded the designation, Distinguished University Professor.
The title of Distinguished University Professor is the highest appointment bestowed on a faculty member at UMB. It is a recognition not just of excellence, but also of impact and significant contribution to the nominee's field, knowledge, profession, and/or practice.
"I'm extremely proud of the exceptional and transformational contributions each of these faculty members has made in support of UMB's mission to improve the human condition and serve the public good," wrote Jarrell in a communication to the UMB community. "They are excellent examples of living the UMB core values, and it is my honor to call them colleagues."
Hoffmann and Percival will receive Distinguished University Professor medals at UMB's first-ever convocation in the fall.
This year, UMB is recognizing seven faculty members with the designation, two from Maryland Carey Law, two from the School of Medicine, and one each from Dentistry, Nursing, and Pharmacy.