During Summer 2020, MLaw Programs will offer a Mock Trial course for high school students as part of the Terp Young Scholars Program at the University of Maryland, College Park.  Students will earn 3 university credits in just 3 weeks!
"The UMD Mock Trial program was the best pre-law program I have been to. The class was fun and exciting as well as informative. I had fun learning more about the trial process and I feel more prepared for studying law. The professor also was very nice and she made everything we did interesting."   - Erica Patterson, 2015 Mock Trial Student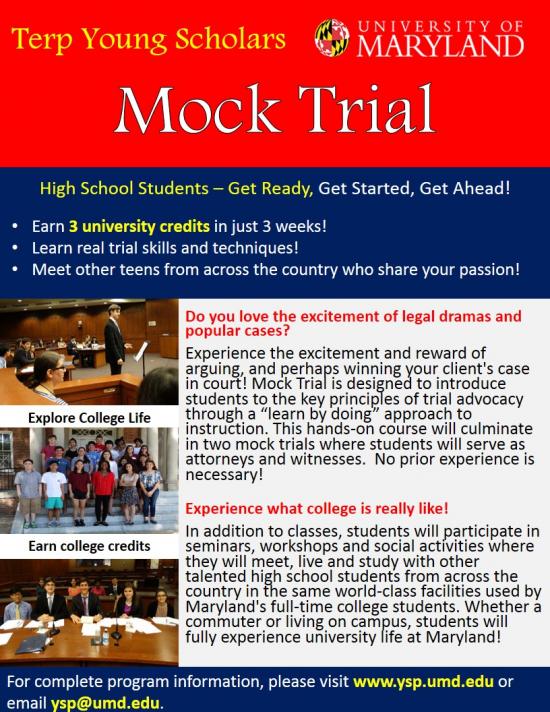 Course Information
Experience the excitement and reward of arguing, and perhaps winning your client's case in court! Mock Trial is designed to introduce students to the key principles of trial advocacy through a "learn by doing" approach to instruction. While classes will include explanatory lectures, the emphasis will be on learning through student exercises and by students observing and analyzing the performances of others. This hands-on course will culminate in two mock trials where students will serve as attorneys and witnesses.
While no one should expect to leave this class as a polished advocate ready for trial, everyone can expect to leave with a greater understanding of litigation tactics and courtroom performance. Irrespective of initial skill levels, students will leave this class with greater confidence in public speaking and advocacy.
As part of the course, students will have the opportunity to engage members of the legal profession both inside and outside of the classroom.  In the last week of the program, students will take a field trip to the University of Maryland Francis King Carey School of Law where they will be given an introduction to the Legal Profession, attend a Mock Law School Class and take a campus tour.
Should you apply and be admitted to the University of Maryland, College Park, this course will also prepare you to join the national champion UMD Mock Trial team when you enroll.
Click here for course meeting times and a sample course syllabus from a previous year. 
Application
To apply for MLaw's Mock Trial Summer Course please click here.  Please note that program admission is competitive and contingent upon space availability. Early applicants are more likely to receive their first course selection and be guaranteed accommodations. 
Last modified
07/06/2020 - 2:24 pm